Ionic Straightening Brush
Are you tired of waking up with shaggy hair? You have tried all sorts of things but nothing works? 

It's time to balance out the electricity in your hair and introduce negative ions while you de-frizz and straighten with the Ionic Straightening Brush by ClickClickShip.com.
----------------
BUY NOW
50% Off Today Until Stocks Lasts - Hurry!
FREE SHIPPING
-----------------
Constant use of chemicals on our hair and the weather can strip away negative ions from our hair causing it to become frizzy and uncontrollable. 
The ionic mechanism instantly glides your hair smoothly while you brush. You literally need less than a minute to brush your hair each morning to have smooth hair all day. And it's incredibly handy, compact and fits any bag! Throw away the GHD's and other expensive straighteners. What are you waiting for?  
Ionic care for smooth and shiny hair
Static electricity exists everywhere, especially in a dry environment. That's why your hair gets frizzy and messy easily. To help you get rid of this annoying issue, we bring an easier solution - The Ionic Straightening Brush. The ionizer generates negative ions to neutralize positive charge of static electricity. It helps to reduce frizz and bring back smoothness and shine to your hair instantly. To improve the ion diffusion on hair, we keep the ionizer close to the cushion, which allows spreading ion on hair more efficiently when you brush. Keep neat look anytime, anywhere from now on!
Seamless round bristle tip is gentle to hair & scalp
All bristles tips are seamless to avoid scrubbing damage on scalp or hair trapping during usage. The special round ball tip has a bigger touching surface so that it's more gentle to the vulnerable scalp.
Bristle cushion with the optimal surface is comfortable to use
The optimally designed bristle cushion enables better force distribution and follows the contours of the head naturally for more convenience and comfort, the brushing experience is still comfortable despite the compact size. Thus, you can easily have a fast but great soothing head massage anytime, anywhere with shiny and smooth hair.
Bristle cushion is detachable for easy cleaning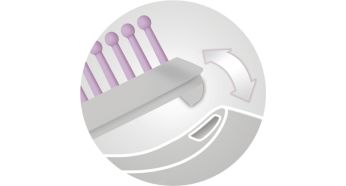 Bristle cushion can be easily detached so that you may clean it with water regularly to keep bristle clean.
Small and cute design make it a beauty accessory
Compact size brush can fit your make-up pouch and small bags. You may bring it with you always and use it anytime, anywhere. The eye-catching silhouette, seamless shell, and cute feminine touch make it not only a brush but an iconic beauty accessory with excellent performance.
Ergonomic design for better handling experience
If you're looking for the handle of the brush, our advice would be: you don't need a handle using the Ionic Straightening Brush! The seamless and ergonomically curved shell fits excellently in a women's hand, ensuring great handling experience.


Features:
Straightens your hair.
Seals & heals split ends
Makes hair softer & shinier
Reduce drying time.
Minimize heat damage.
Eliminate frizz.
Relaxes the head & eliminates stress
Specifications:
Power Source: Battery
Bristle cushion is detachable & washable.
Type: Negative Ion Comb
Color: Pink/Purple
Size: 12.2*6.6*5.6cm
Suitable: Apply on dry hair
Supply: 1 x 1.5V AAA Battery (Not included)
Material: Plastic
FREE WORLDWIDE SHIPPING!
Please allow 2-4 weeks for delivery to the United States, Canada, United Kingdom, European Union Countries, Australia, New Zealand, Singapore, Malaysia,  UAE, KSA, Bahrain, Oman & Qatar.

Please allow 2-6 weeks for delivery to the rest of the world
---------------- 
30 Day, 100% Money Back Guarantee:   

We're so certain you'll love our products, that if you don't, you can send it back.
No Hassle for a refund!
-----------------